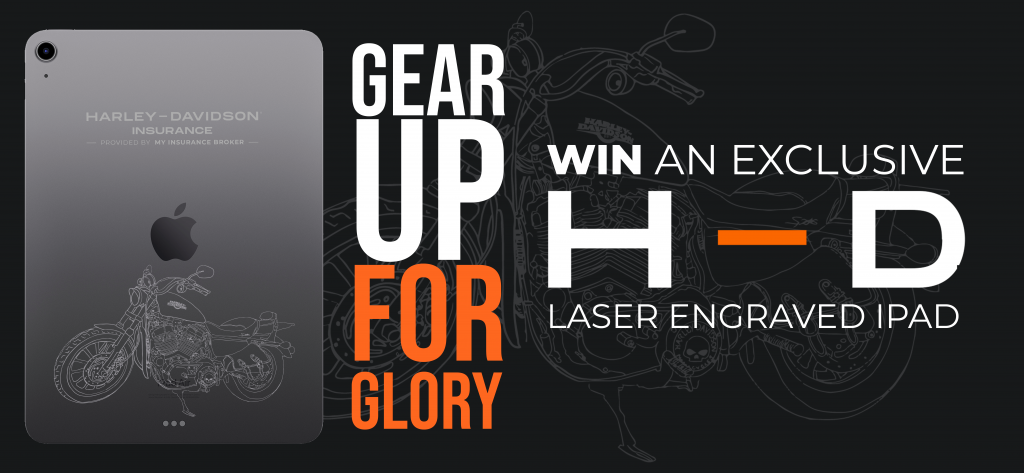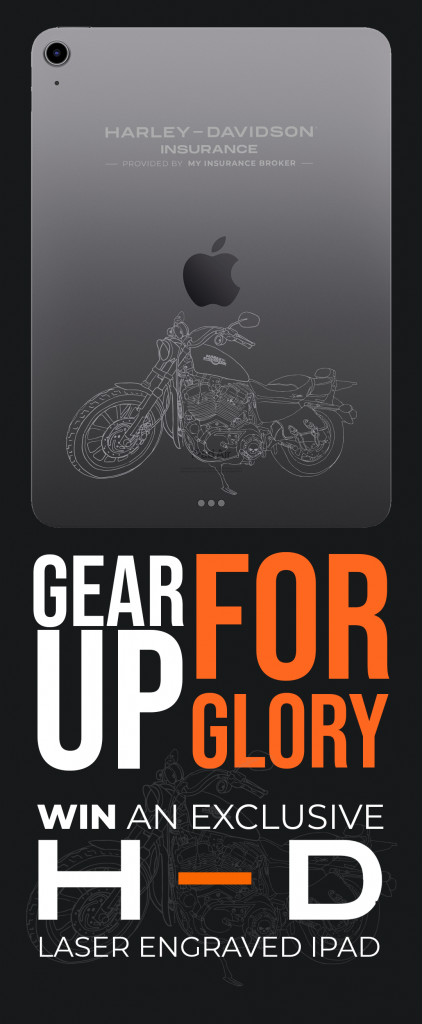 CONTEST
Stunning tech meets H-D style. This one-of-a-kind laser-engraved iPad could be yours — just fill in the form and you'll be entered to win. That's all you need to do!

Only TWO (2) GRAND PRIZES will be awarded. Each winner will receive:
– One H-D laser-engraved iPad.
– Each iPad is engraved with a hand-illustrated H-D Sportster 883.
– Technical specification of iPAD: Space Grey | 64 GB | 10.9" DISPLAY | M1 CHIP | 12 MP ULTRA-WIDE CAMERA | 4K VIDEO
– Limited exclusive production of 2 pieces.
Contest Rules (Terms and Conditions)
1. Two grand prizes to be awarded on December 1, 2023. Winner will be notified by phone and/or email.
2. Each grand prize consists of a H-D laser-engraved iPad with technical specification as stated above.
3. To be eligible, all entrants must be 18 years of age or older at the time of entry.
4. To enter this contest, entrants must complete the form on this page prior to 11:59:59 pm on November 30, 2023.
5. The winner for the grand prize will be chosen at random from all eligible entrants. Odds of winning are dependent upon the number of eligible entrants in this contest.
6. By entering this contest, I agree to comply with all rules of the contest and give permission for My Insurance Broker Corp. and all of its subsidiaries and programs including Harley-Davidson Insurance to use my name and/or image on any and all of their social media channels should I be randomly selected as the winner of the grand prize or any additional prizes that may be awarded.
7. All decisions made by the organizers of this contest, My Insurance Broker Corp., are final.
8. Should Harley-Davidson Insurance Provided by My Insurance Broker be unable to deliver of fulfill any prize, the contest organizer, My Insurance Broker reserves the right to substitute a prize of similar value solely at their discretion.
All decisions made by the organizers of this contest, My Insurance Broker Corp., are final.
Harley-Davidson Motor Company, Harley-Davidson Financial Services Inc., and Apple Inc. are not directly affiliated with this contest in anyway.